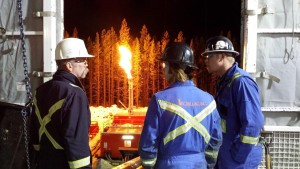 The health and safety of our employees is our utmost priority and is emulated in every aspect of our operations, procedures, and behaviors. We are committed to complying with all applicable Federal, Provincial, Municipal and local laws, regulations, accepted industry codes and practices, company safe procedures, practices and rules.
DC Drilling Inc. is accountable and responsible for ensuring adequate resources and leadership is provided in the areas of health and safety.
DC Drilling Inc. provides direction to employees, customers, visitors and contractors in all areas of health and safety through training, audits, reviews, instructions and promotions, in order to provide and maintain a safe and healthy environment.
DC Drilling Inc. considers the protection of the environment important in business and is committed to providing high standards of environmental care in all phases of operations, procedures and behaviours. The prevention of pollution and reduction of adverse effects are established through the means of treatment, process changes, control mechanisms, efficient use of resources and substitution whenever feasibly possible. We utilize the four R's: Reducing, Reusing, Recycling and Recovering.
DC Drilling Inc. provides the tools for prevention of incidents through hazard management, which includes hazard identification, inspections, control and elimination, Incident and near miss investigation. By developing our employees through good communication, job training, emergency response preparedness and risk recognition, the result is employees being both responsible and accountable for their part in safety.
DC Drilling Inc. has zero tolerance for drugs and alcohol in the workplace. We are committed to building and preserving a safe, productive and healthy working environment for employees based on mutual respect.
DC Drilling Inc. does not condone and will not tolerate acts of violence, discrimination or harassment against, or by any DC Drilling Inc. employee. Failure to comply will result in disciplinary action, up to termination of employment.
DC Drilling Inc. is dedicated to providing a workplace where employees, customers, visitors and contractors can come to work and return home to their family; injury free.
Our employees are committed to working safe on the job and carrying home the safety culture that they have learned at DC Drilling Inc.
Safety is not just a slogan; it is a way of life at DC Drilling Inc.